Technotes

1.) Enclosure Temperature Problems
(March 15th, 2001)
We have done research regarding heat build up in enclosures both insulated and un-insulated.† We used the Hoffman enclosure program for analysis and also have done field sampling of different enclosures. We have found that high temperatures are more damaging to equipment than cold. Our main objective to the low and high end. We have found that insulation impedes cooling and causes temperature levels higher than what are acceptable/specified by electronic and electrical manufacturers. Since it is easier to add heat than it is to cool the enclosures down, we prefer to put in larger heating units instead of insulation. This has done well for us in the past. We have many installations running 10 years without any problems utilizing this design premise. Find out for yourself by using Hoffman's Thermal Management Software.
Hoffman Thermal Management Software (Click Link to download software)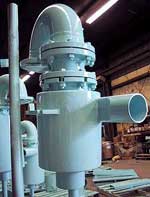 2.) UL Enclosure Classifications For Intrinsic Locations
(July 31st, 2001)
UL has finally designated a standard for Industrial Control Panel relating to Hazardous Locations. This utilizes the UL 508 & UL 913 classification for equipment contained within the panel. Industrial control panels incorporating intrinsic safety barriers and intended for connection to circuits residing in hazardous locations are covered by UL 698A, Standard for Industrial Control Panels Relating to Hazardous (Classified) Locations. Specifications should reflect this new designator standard. Follow the link below for more information on this standard or other UL questions.